Harry Parr-Young is a Portuguese/British award winning designer who graduated from the National School of Furniture in High Wycombe, England 2010. He went on to be chosen to showcase his work at Tent Selects London, who picked the "next generation of world class designers whose ideas will shape our future world."

He has worked as an Industrial Designer within the architectural industry for several years, gaining experience of working and collaborating with some of the biggest European furniture and product design manufacturers such as Vitra, Walter Knoll, Kvadrat, Molteni&C, Poltrona Frau, Lumina, Artemide among others.

He finished his MFA in 2018 at Konstfack University in Stockhom Sweden. With a keen interest in material experimentation, he went on to pursue research in the field of craft in Sweden, specifically questioning the cultural identity, historic context and ornamental colonial heritage of the dying craft of Rattan in Western Society today.


---
Rattan Splice Stool


RSM I addresses the conventional style of rattan furniture, re-interpreting the perceived association with its exotic and outdoor context, questioning the colonialist aesthetic language of rattan furniture in western society. The final outcome would be a range of rattan furniture, that would sit more appropriately in the contemporary furniture market and domestic setting, proposing a simplified aesthetic by using structural geometry

2010 / Rattan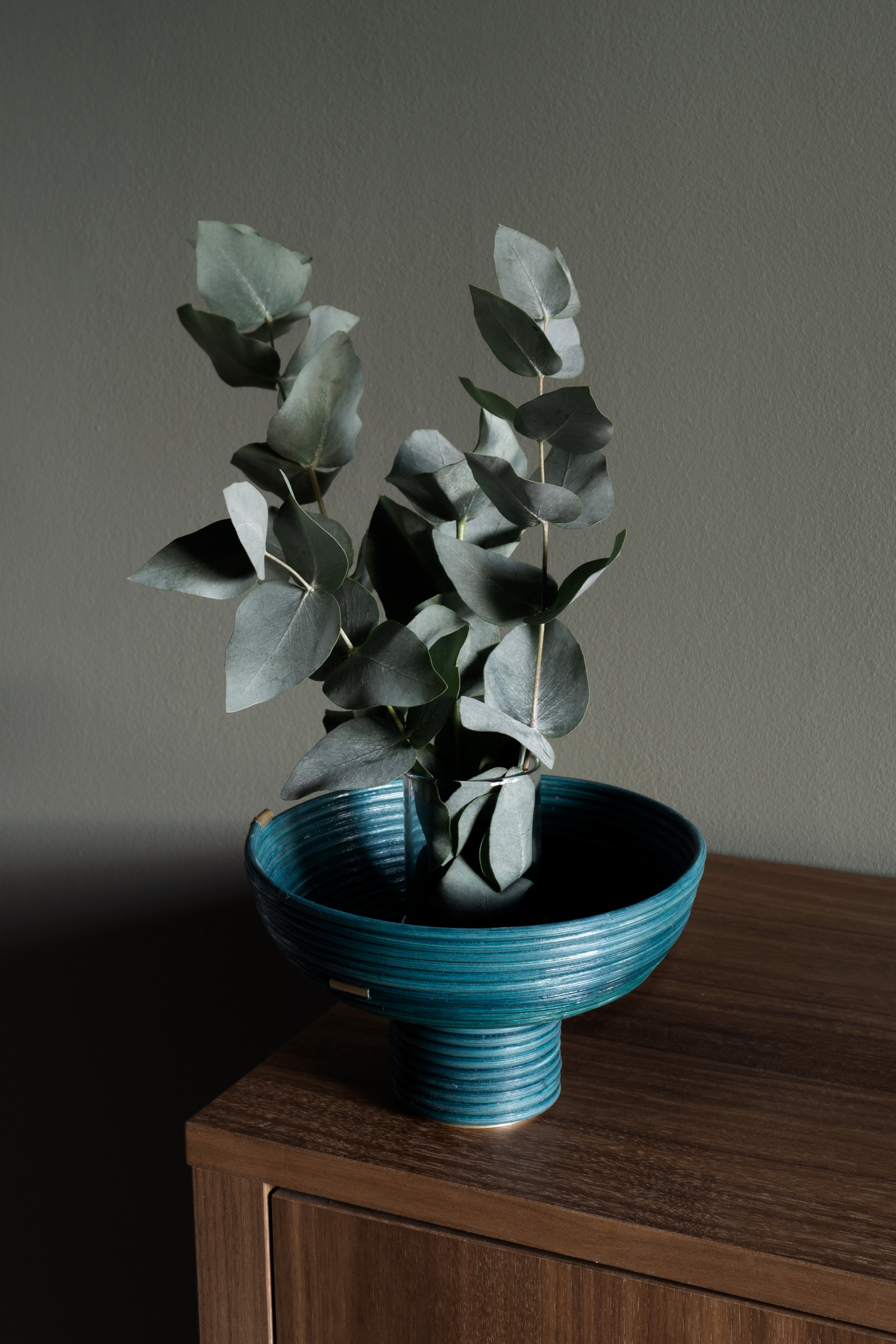 VIRA Vase


With the ongoing research and experiments with this technique, one of the outcomes was Vira vase, launched for the Takeway Market during

@sthlmcraftweek

@galleriduerr

in collaboration with @seartgroup.

Vira stems from the traditional technique of winding rattan strips around cane furniture, disguising the joints and reinforcing the structure, becoming a decorative feature. Small curved brass tubes were used as a connection detail on the coiled rattan strips.

As the flowers age in the vase, a transition is made from the initial glass vessel holding the fresh flower, to the bowl-like rattan vessel, cradling the fallen petals or leaves.
2021 / Rattan, aluminium, copper, brass.
Rattan Splice Mirror


Rattan Splice Mirror (RSM) takes full advantage of the high flexibility of rattan, allowing the material to flow around the glass, framing it while splicing back to its starting point. The mirror is held by a single screw in the wall, elegantly covered by a brass cap.

Currently sold and distributed by
Studio Boja.
2019 / Rattan
Broken Narratives

We attach ourselves to certain objects, applying sentimental value to them. From new artifacts to passed down through the family, we naturally build narratives for these objects that can bring us joy and comfort.

In partnership with Corian DuPont, as part of a brief to create a design which showcases an aesthetic / conceptual / functional bond between Corian and one other material. The concept developed was a service of transforming someone´s beloved broken crockery into a unique and functionally co-designed and re-evaluated piece, by using thin Corian as a molding agent, bonding with the crockery.

The result was an exercise that highlights our sense of worth and longevity to our possessions, questioning our ever growing consumerist and throw-away culture.

2010 / Corian + Crockery